HOW TO MAKE NATURAL AUTO SHARES TO TO YOUR FACEBOOK FAN PAGE OR PROFILE USING TSU
Cross promotion between social media sites can often be a chore so with this article i will be showing you an easy way to use Tsu to share into your Facebook Fan Page or Profile.
The idea of auto-sharing often scares a lot of people but with Tsu it is very easy to make your share look natural and not automated and at the same time be linking in to Tsu page to grow your Tsu network.
The advantages of creating content in this way is the growth on your Tsu Network, i believe Tsu will be an influential social site very soon and to produce natural content to send to your Facebook Fan Page or Profile.
It is good to note that i am not suggesting you never go to your Fan Page again to ceate posts but to merely send content that is relevant from Tsu to your Fan page as an added content bonus if you like.
Getting Started
Im going to assume that you already have a Tsu Account. If you don't then you can join via the Pac Shopping Mall.  I am going to assume that you have connected your Facebook Account to Tsu and selected the page or profile that you want to share to.
If you do need details on how to connect your page or profile then go here Tsu Guide Tutorial And Review
You can only share to one Facebook Fan Page or Profile per Tsu account but you can go into the setting and change from your page to profile and back as many times as you want.
Creating Your Content
It is now just as simple as making a post on Tsu and clicking the Facebook Button clicking post and the content is syndicated to Tsu and to Facebook. But before we do this we need to first make your our posts look natural.
The first thing to do is note is that post titles are not carried over to Facebook when we share so we need to add in a Title on our Tsu post and also a sub title that is equally as eye catching as the main title. The sub title is in the body of the post and so is shared along with the main content.
You can add in a cool pic and edit it within Tsu (another great reason to use Tsu) and add in text and other useful graphics with the image editor and t add in some relevant hashtags and we are done.
I have made a coming soon post on Tsu that advertises this article to show you how the post looks directly on Tsu and on Facebook.
Here is how the content looks on Tsu.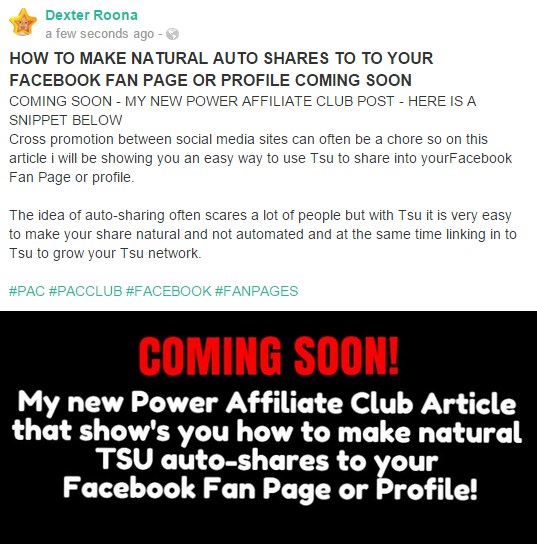 And here is how content looks on my Facebook Fan Page.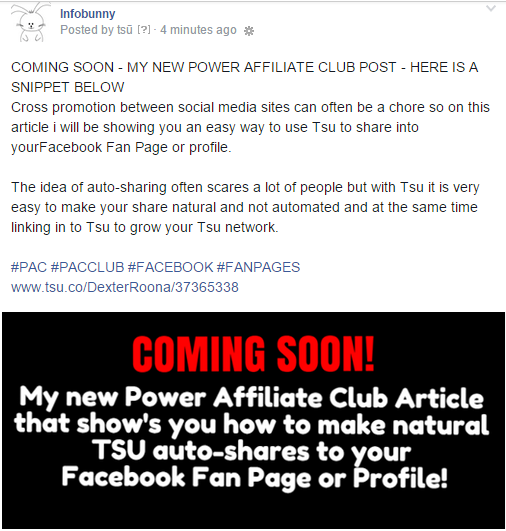 The only difference between the two posts is the main title is missing on the Facebook  re-share which is why we added a sub title and there is also a link back to Tsu at the bottom of the re-share.
Conclusion
The success of this strategy really depends on the value to place on Tsu a viable social site…. for me it is a Tsu is a very good site to be involved with and this sharing strategy is a huge time saver. If you are a Tsu user it will be for you as well!
To your continued success
regards Dexter Roona

Here are some of the other popular Social Networks you can find me on none of which pay you!
RELATED ARTICLES
Top 50 Members To Follow On Tsu
Is Tsu An Easy Way To Make Money Online?
How To Make Money With Pinterest Using Tsu
THANKS FOR SHARING 😉
Dexter
PS – If you liked this post, please comment, like, and share… thanks!