What better time to make your bedroom special than the month of February! We all deserve a good nights sleep.
Getting it can be a challenge for many. Not only do we live in a 24 hour society, we also have gadgets we never turn off. But first.
Marilyn's Way Home Keeping System
In my Closed Facebook Group Marilyn's Way you practice a simple home keeping system I created that keeps you from getting sidetracked. Many household chores do not take that long if they are done right away and you stay on task. The problem is when you get sidetracked.
There will be times when something is more important and should be attended to. A phone call to take, kids and pets to attend to. What creates problems is getting back to the task at hand and completing it. There are four quadrants to the system with monthly events being the fourth. They are as follows
Four Quadrants To Marilyn's Way Simple Home Keeping System
1.  9 Daily Habits
   2.  Weekly Habits For Specific Days
   3.  Zone Work
   4.  Monthly Events
Each quadrant has a priority and reason. Breaking it up into four quadrants is what makes Marilyn's Way System doable.
The fourth quadrant deals with monthly events. Each month has a purpose.  They are aligned for happenings during the year with Clothes, Kitchen and Paper Clutter being held twice a year.
The monthly events are the best way to begin your decluttering journey and once you have most of the clutter out of your home it works as a maintenance indicator.
February's Event
Make Your Bedroom Special
Throughout the month of February you will take on the monthly tasks in the order that is written.  But first it is strongly suggested you schedule time for each of the nine habits.
They are the foundation that directs you out of chaos allowing you to have time for the other three quadrants. It may look like it is a lot at first but once you work the system you will find a few areas of redundancy.
Before I give you the actual tasks I want to write a little bit about the importance of scheduling your sleep time and I will tell you how it was for me before I began this journey.
Scheduling Your Sleep Time Is Key
Back in 2007 I was diagnosed with sleep apnea. In fact my sleep apnea is so severe that I need a bipap machine where more pressure of air is forced in when I breath in and less pressure when I breathe out.
I have a love/hate relationship with it. That said I use it each and every night. In fact I am also diagnosed with chronic fatigue syndrome. It is going to take years of diligent scheduling for myself to feel normal again. Our bodies take time to change.
How Did I Get There?
For me it is genetics and lots of bad habits. I didn't value the importance of sleep. I didn't value the importance of a nice clutter free bedroom with special touches.
My bedrooms always consisted of a pile of dirty clothes I was going to get around to sorting some day. Living in a one bedroom apartment I always made a corner of it my home office.
Yes I was sleeping among the  overdue bills that kept screaming 'Pay Now!' I also had at least 3 self-help books for various issues one being fibromyalgia. This led me to becoming a pajama junkie for over five years.
Dirty clothes, paperwork and self-help books are what lived in my bedroom. Many nights I would have piles of paperwork and books scattered on my bed with just a spot for myself to sleep.
Does any of this sound like you? Yes somehow the bedrooms of today have become more than sleeping and intimate relations.
It's Time To Take Your Bedroom Back!
In February of 2011 I was making preparations for a personal challenge that would take place in March. It was creating the habit 'Get Dressed To Shoes'.
If I was going to become successful, I needed to take my bedroom back. For the last two weeks of February I spent all my time in my bedroom.
The first thing to go was a small chair. It served nothing more than piling clothes, paperwork and books on it. It had to go. I found a better place for it in my living room.
It Is Time To Declutter!
Now that the chair no longer resides in my bedroom, I am forced to go through the stuff that had been living on it. What a mess to say the least!
I found tops that had stains that I was going to try to get out some day. paperwork I was going to organize as I lay in bed watching TV, and the self help books that were going to get me out of this mess. Who was I kidding? Myself of course!
There Comes A Time
Yes, there comes a time when you have to realize you are never going to get around to getting those stains out of t-shirts you wear that have already seen its day. The paperwork? Most of it needs to go in the trash.
Haven't paid the bill yet? Don't worry, you will get another in the mail soon. Self help books? Get them out of your bedroom and on to a bookshelf in another room and take a vacation from them.
It's Time To Declutter!
Set Up A 'Cha Cha Cha' Station
It is a simple and fun way to 'Throw Away, 'Put Away', 'Give Away'.  Any containers will work. Boxes are usually easily available.  We must first clear the area of unwanted things that have been taking up residency. It is time to evict unwanted things. Put some music on and 'Cha Cha Cha'!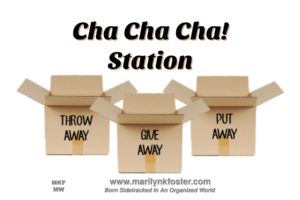 Having A Hard Time Starting?
Try Counting!
Many experts suggest setting a timer for 15 minutes. When time is up, take a 15 minute break and then begin again. For me it did not work.
All it did for me is create more anxiety on top of my exhaustion from poor sleeping habits and too much stuff in my bedroom. Instead I chose to do a '25 Fling Boogie'. I just look for 25 Things to 'Throw Away' followed by 'Give Away'. This allows you the space you have been looking for! Take 25 Things and 'Put Away'. 
You Are Now Ready To Detail Clean Your Bedroom
If you want to keep yourself from having to clean over, you must have a plan. Once your bedroom is decluttered, you will…
Clean Top To Bottom, Left To Right and Clockwise
Are You Ready To Make Your Bedroom Special?
The following is a simple list to follow in the order it is laid out.  Following in this order keeps you from having to re clean things. We start at the top and work towards the bottom in a clockwise movement.
Strip Your Bed Of All Bedding Including The Mattress Pad
Wash Your Bedding
Let's Flip The Mattress!
If you want your mattress and box springs to live to its full potential it is best to flip your mattress quarterly. It is best to get someone to help you. You do not want to hurt your back. You still have some cleaning to do. The following is a diagram on how to do it.
You may want to vacuum the mattress and box spring before you put the bedding on but FIRST
Let's Clean Those Cobwebs!
If you don't want cobwebs to fall in your hair, put a bandanna on or a cap. If you haven't spent any time cleaning in here, it will be dirty and stir things up. You want to do it the easiest way possible.
It's Time To Dust!
There are many products on the market to use for dusting. The best advice I can give you is to choose a product that you like the smell of. You can use microfiber cloths, one of those stained t- shirts cut up into rags or cloth diapers will do the trick.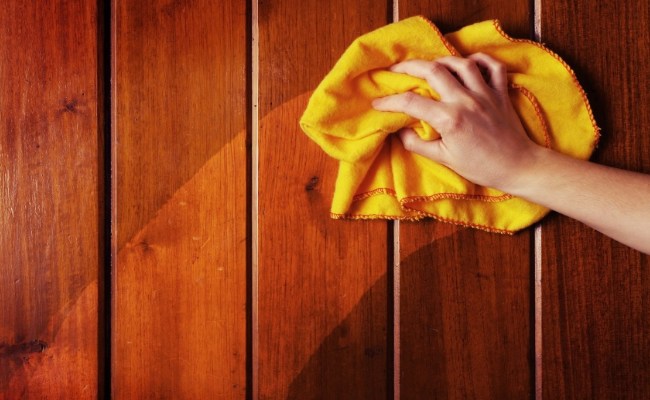 Dust and polish walls and furniture.You can dust the walls with a mop like shown to remove cobwebs using the 'Top To Bottom, Left To Right and Clockwise' technique. Next you will do the furniture in the same way.
Polish Those Mirrors!
Most bedroom furniture comes with a mirror. You want to get it to sparkle so you can happily say hello to yourself in the morning.
Now It Is Time For The Windows
Nothing is better than waking up to sunshine shining through sparkly clean windows. The sun gives you vitamin D. Let's get all of the Vitamin D by keeping the windows clean.
Clean Under The Bed
If you can do this, it is best to have nothing under the bed. It makes it easy to clean under there. If not, just make do with the possibility of removing it in the future as you get further along in your decluttering journey.
Sweep/Mop/Wax Floor
Depending on the type of flooring you have in your bedroom you will do the following options.
Let's Vacuum And Clean The Carpet!
By now you have rebooted the bedding in the laundry and is almost dry and ready to put back on. But first…
And Now The Bedding!
Stand Back And Admire!
If there is something special you want to put in your bedroom that makes you happy, do it! It is your bedroom and you just made it special! You can now let go of the day, put you head to your pillow and wake up refreshed and ready to take on the new day!
Next Month We Will Tackle The Clothing Clutter
According to my first e-book I recently published, 100 Things To Get Rid Of In Your Home The Simple Way To Begin Your Decluttering Journey
I treat the bedroom closet as a separate area. But first I want you to experience what it feels like to have a clutter free bedroom that you look forward to going to bed in and waking up the next day making your bed and getting dressed for the day.
Drop Me A Note!
I would love to hear how you do should you decide to take on this challenge. For myself personally it has been one of the best things I have done for myself. Last February I painted the ceiling and the walls to freshen it up.
This year I am on the hunt for a comforter set I love and will buy.  Since I did the major decluttering back in February of 2011, I have been able to 'keep my bedroom clutter free'. That makes me happy!
If You Are Looking For Additional Support I Invite You To
Hope To See You There!