Tsu  2 Months On
So i wanted to do an article that follows up on one that i wrote a couple of months ago all about the new social media site Tsu.  It might be a good idea to visit that article before you read this new offering so that you have an understanding of what Tsu is all about …. here is the article, Tsu Social Media That Pays -Really Is That True?
So 2 months on or so since i joined Tsu, i was something like member number 69500 when i joined, so Tsu was really in it's infantcy at that time and it really still is. The big news is that Tsu now has over 2 million members, they hit the 1 million mark in just 45 days of launching that is 30 days faster than Instagram managed it, in fact only one site has seen faster growth and that is Google Plus.
So What Does This Mean To Me As A Tsu Member?
Well in one word Engagement ….
Take a look at this screen capture, it shows you my views, likes and comments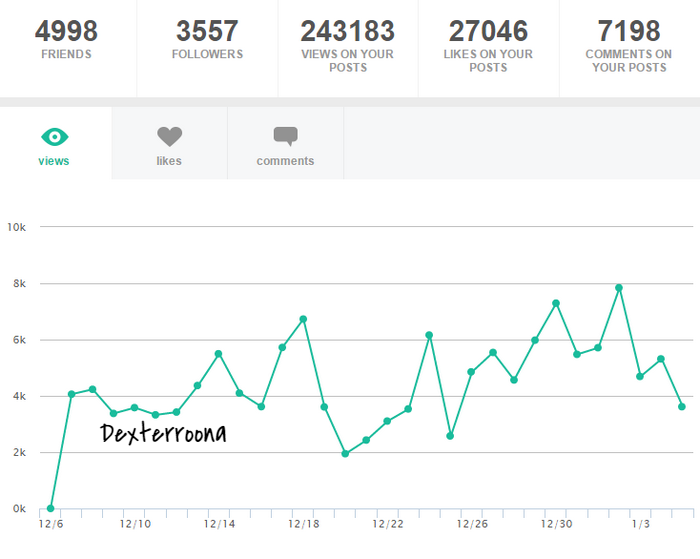 There is only one site where i can get more engagement and interaction than i do on Tsu and that is Google Plus, and i have 10x the following on Google Plus compared to Tsu.
So how do these numbers compare to Facebook? well they just don't but then the two sites are chalk and cheese.
Pac Author William O'Toole hit the nail on the head when he shared his Facebook strategy to reduce his following on Facebook so as to make the Facebook Algorithm work in a more favourable way for him.
On all social sites you want as bigger following as possible but on Facebook you want almost as small as possible so that the algorithm can't dilute your reach as much and show you to in actives or people just not interested in what you do.
Well im always telling people to forget the money side of Tsu because if you use the site correctly the money is attracted to you. No one is going to get rich with Tsu but then that's not the point, all that is happening is that we are getting rewarded, we are not being paid.
I was talking to a marketer the other day and i mentioned that i had earned $52 in 2 months on Tsu and the reply i got was, well im not working for small change, i can earn x amount on this business ….. and im thinking stop, just stop because you are really missing the point you really are……… check the stats again in the graphic above
243183 views , 27046 likes, 7198 comments
CAN YOU REALLY NOT SEE WHERE THE VALUE IS WITH TSU ? 😉
The $52 is just a reward and some smile money which is increasing, im not saying come use Tsu as a business, i'm saying leverage it.
Ask yourself a question, how many likes, comments and shares do i get on Facebook or Twitter or where ever? and how much have these sites paid me?
Tsu Observations
Tsu is growing incredibly fast, and i really don't see any let up in it's growth, it has already been featured on Fox News and it has also now been featured on CNBC.
http://youtu.be/pMhv8BgyPhE
As mentioned the engagement is incredible and im not finding it overly spammy which is a welcomed surprise considering money is involved, all in all my experience so far is nothing but positive with this platform .
Will Tsu be a big player? well i can see it happening and i hope i does because. It is a great site, but people do doubt it's ability to pay rewards and for the growth to continue but if you read into the message that the Owner and Founder Sebastian Sobczak gives us in the videos then the Social Media side is not even the business and that is the reason why this could just work.
To your continued success!
Regards Dexter Roona

Here are some of the other popular Social Networks you can find me on none of which pay you!
RELATED ARTICLES
Top 50 Members To Follow On Tsu
Is Tsu An Easy Way To Make Money Online?
How To Make Money With Pinterest Using Tsu
THANKS FOR SHARING 😉
Dexter
PS – If you liked this post, please comment, like, and share… thanks!
Stay PAC Informed
Subscribe to our mailing list and get interesting stuff and updates to your email inbox.
Thanks for subscribing 🙂
Oops - Something went wrong.
PAC Loves You for Sharing!